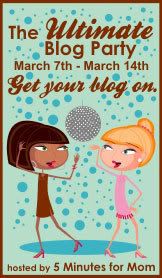 I am joining the par-tay! What a great way to connect with other women! I am excited about visiting the blogs of the other participating folks! If you get a minute sign on... there are PRIZES to win!!!!!!!
Here are some of my favorite prizes...
50 Nights of Family Fun
Provided by
:
Essential Family Living
Essential Family Living is a website featuring tips, suggestions, and ideas for family fun nights and family games. This site is offering a great book called "50 Nights of Family Fun!" by Mark Whitlock which includes 50 creative ways to have a simple, cheap, and fun family night.
With my crew of 5 this is something I can most definitely use!!!!
A Dieting Diva's Diary
Provided by:
Kali Shirah
Prize details:
Kali Shirah is offering A Dieting Diva's Diary is a 31-day inspirational weight loss companion for tracking your fitness progress, with tips for managing cravings, high blood pressure and diabetes. Its compact size makes it convenient to carry in your purse or tote bag for quick logging of: Weight Watchers(tm) food points, water consumption, exercise, weigh-ins, etc. A Dieting Diva's Diary also features daily Bible verses to uplift and encourage you on your weight loss journey.
I am on a quest to become healthy.. this would be a great help!
3 books
Provided by:
Jill Norwood
Prize details:
Jill Norwood from Who Could Ask for Anything More is giving away three cooking and entertaining books bundled together in a fun striped tote bag, perfect for taking on an overnight stay or to the pool or beach. I'll also be filling the bag with some goodies geared especially toward the winner's taste (coffee lover, tennis player, scrapbooker, etc.) Jill's Book Bag is a regular feature on my blog, so, if you don't win this time, I hope you visit me regularly to enter another time.
I am a reader and love resources like this!!! What a great addition to my library!!!
Webcam
Provided by:
Liz
Prize details:
Liz at
This Full House
is giving away a Logitech QuickCam Pro 2000 webcam, she received on her review blog, courtesy of the promoters for
Skype.com
- a video instant messaging service. The prize is valued at $100.
Who wouldn't LOVE this!!!???